---
I was thrilled that I was able to spend the whole day with one of my daughters! I thought I'd start the day off super fun by hitting the mall, I mean what girl doesn't love to shop?!
Our theme was Christmas, as I knew we'd find a lot of stores already well decorated. It was a really great day chatting about designing and just catching up on girl stuff.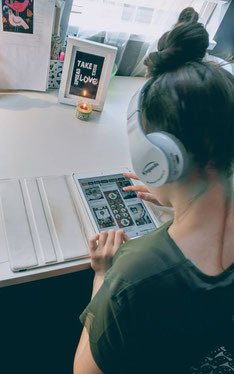 Hi, my name is Chayse, I'm Sam's daughter. Today for bring your kid to work day I went comp shopping with my mom. I took pictures of Christmas related things for my mood board which I found out I'd use later. After that I made Christmas motifs on my moms iPad. Mom showed me how to move them onto her computer and into Illustrator so that I could make a pattern. I learned that making art is a lot harder than it seems but I had fun!